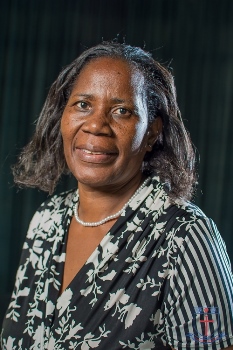 HEAD OF DEPARTMENT: Mrs A Muzamhindo
Vision
We aspire to motivate our students to develop their mathematical potential to the full and to present Christ as the source of all that we teach. Col1: 16-17
Our Values
As members of the Department we seek to promote Ephesians 2: 10 which states "For we are God's workmanship, created in Christ Jesus to do good works which God prepared in advance for us to do"
To teach every student entrusted to us with care and love, acknowledging the fact that all have been fearfully and wonderfully made. Psalm 139: 14
To have prayer as a central tool of all our operations
Train and equip the members of the department with current trends of information in order to be relevant at all times
Department
The Mathematics department offers a broad range of courses to the whole school from form 1 through to A Level. All students in Forms 1and2 work through the Cambridge Checkpoint Syllabus for which there is a Cambridge Diagnostic Test written at the end of form 2. This test assess the strength of each student in four areas namely Number, Algebra, Shape and Space as well as Handling Data. This is an excellent foundation for Cambridge IGCSE.

For IGCSE we offer the Core Syllabus which is a foundation useful for everyday life. The extended syllabus is done as a necessary background for A-level Mathematics. The A- Level Syllabus constitutes four papers which are Pure Maths one and three, Statistics one and Mechanics one. Pure Mathematics one and either Statistics or Mechanics are written at the end of lower 6. Pure Mathematics three together with the option of Statistics or Mechanics which was not covered at L6, will be written at the end of U6.

The Maths Department has a team of excellent staff who are committed to help willing students understand, enjoy and be able to apply Mathematics beyond the school season. Apart from providing quality instruction in the classroom, there is individual tutoring in the afternoon on Mondays through to Wednesday for those students who feel they need extra help. This is offered as a service by our senior students and those students who need extra help must take advantage of this programme.
Scope & Sequence (CURRICULUM MAP)
Mathematics
Mathematics is challenging, rewarding and fun. It is both logical and creative. No learner can afford to avoid this important subject. It opens doors to a world of opportunities. Every learner needs to obtain at least a grade C at IGCSE level. To those who are mathematically gifted, you are encouraged to pursue the study of this subject to its highest level. God has given mankind the ability to explore his creation and I therefore urge all learners to embrace this subject with passion and refuse to be intimidated.
What Skills Does Studying Mathematics Develop?
Critical thinking, problem solving, analytical thinking, quantitative reasoning, communication, time management, teamwork and independence
Career Pathways

Accountancy, Actuary, Computer Programming, Medicine, Engineering, Investment Management, Law, and Government Research Analysis
We hope the information provided on our website will be a useful guide to the students as they make decisions that concern this important subject.

Teachers: Mrs A Muzamhindo Mrs A Kapumha | Mr G Saunders | Mrs P Ratisai | Mrs M Nyakura | Mr K Mapungwana